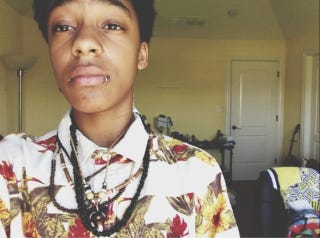 Jay Kelly's father may not be much a part of his life, and the media coverage around his coming out as trans may have been, well, horrid, but it seems like he has one of the most important support structures a trans kid can have: a really supportive mother.
In an interview with VH1 staff writer Damian Bellino, Drea Kelly, ex-wife of singer R. Kelly and reality television star on Hollywood Exes for the music television network, took time to address the media attention around Jay's decision to come out. And what she had to say really underscores the kind of home environment which is crucial to the healthy development of LGBT youth, but is often lacking.
Parents get it wrong when they don't support their children. They have to go out and fight every day and face this world. The first battle should not be at home. I think that a lot of children in the LGBT community don't succeed because the one thing they need the most is foundation. I just tell Jay all the time, baby you won the war. You're gonna have a lot of battles but you won the war. Mama accepts and loves you for who you are. Your family does.
And Jay is going to need that support because the celebrity gossip media has been absolutely horrid, and it doesn't seem to be getting better. Proving tabloid media still doesn't know how to properly deal with even straight forward concepts—ones which seem to come naturally to a mother like Drea—Enstarz writer Char Little misgenders Jay in the very opening of a piece on the interview with the terribly confusing lede, "Andrea Kelly of VH1's Hollywood Exes continues to support her daughter, who recently came out as a transgendered male." Where do I even start with that one? It's made even odder by the fact the headline correctly identifies Jay as transgender son. Did Little's editor just slap on the headline without reading the piece first?