A transgender boy has received a new birth certificate from the Canadian province of Alberta officially recognising his sex as male.
Wren Kauffman, who at only 12 years old, finally received the birth certificate at a pride brunch with Edmonton's mayor. He had previously filed a complaint with the Alberta Human Rights Commission because he could not change the sex listed on his birth certificate.
Until Kauffman's complaint, Alberta only allowed a person's sex to be switched legally if sex reassignment surgery had been completed. Increasingly the view that SRS is necessary or can be legally required is changing. In Kauffman's case, a judge ruled that Alberta's requirements were outdated and unfairly discriminated against transgender people, but the Premier of Alberta, Dave Hancock, had actually said the requirement would be dropped a week before that ruling.
Such complaints have also been filed in three other provinces: British Columbia, Saskatchewan and Manitoba. The requirement has already been dropped in Ontario.
A small bit of misreporting by The Canadian Press, however, is annoying. According to how the story is reported on Global News, The Canadian Press insists on saying, "Wren, who was born a girl, had said it was stressful being listed as female" and Global News titled the piece, "Alberta gives new birth certificate to 12-year-old boy who was born a girl."
G/O Media may get a commission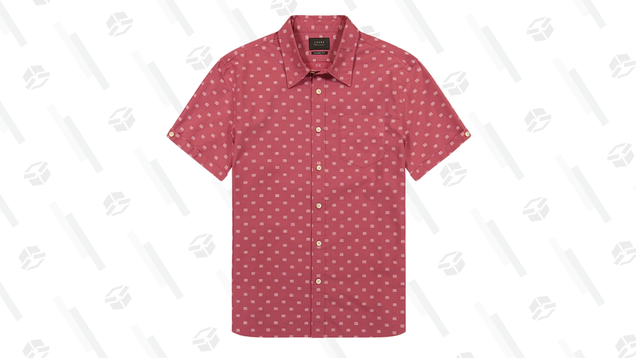 Pink Dobby Short Sleeve Shirt
Wren was not "born a girl," any more than I was "born a boy." Is major media ever going to get this one right? When we get new birth certificates, is that not enough recognition for the errors made when we were assigned a gender marker at birth? Wren may have his new birth certificate, but The Canadian Press seems to have trouble recognising the truth that the birth certificate represents. Ugh.
Image via Global News Broadcast.